Beauty School Dropout
The Boileroom, Guildford.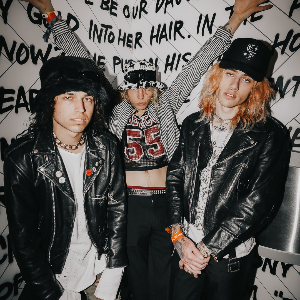 This event is for 16 and over - No refunds will be issued for under 16s.
More information about Beauty School Dropout tickets
Beauty School Dropout is a Los Angeles based rock band comprised of Colie Hutzler, Beepus, and Bardo.
Spearheaded by A&R Mark Hoppus under the new label Verswire with Pete Wentz and Sherry Saeedi, Beauty School Dropout have been turning heads since their debut in 2022.
Meet this generation's Motley Crue meets Red Hot Chili Peppers. Resurrecting heavy guitar tones, charging drums, and sticky melodies, all while still staying true to the relatable and timeless emotional lyrics we all love.
Their debut album, "We Made Plans And God Laughed" released last year, garnered over 14 million streams and featured an amazing list of collaborative efforts including the feature of Mark Hoppus in "Almost Famous". The creation of the album has had the band working with hit-making writers and producers, Andrew Goldstein, All Time Low's Alex Gaskarth, Inverness, Slush Puppy, Ryan Follese, Nash Overstreet, and Dan Book.
The band kicked off this year with hit single 'FREAK' featuring JXDN in conjuction with a 36 date US tour.
'FREAK' claimed global attention, landing Tune Of The Week on BBC Radio 1; and further support from Travis Mills, Jack Saunders, Daniel P Carter, New Music Friday and an upcoming MTV performance.
In continuation with such success, BEAUTY SCHOOL DROPOUT prepare to release their latest single 'dying to be you' on May 19th.
"Dying to be you was written about our struggles with mental health and this constant desire to be someone/something else, as if that would make the problems go away. The fact of the matter is life is a game where you have to play with the cards you were dealt and this song is the realization of that truth."
2023 has the band hitting the ground hard! The boys prepare to hit the road as support for the blink-182 tour in May in US arenas, followed by a European tour with Maggie Lindemann and Stand Atlantic, to a multi-festival summer run across EU and US, Beauty School Dropout shows no signs of slowing down. Not to mention the follow-up album 'thanks for nothing', set to drop in Q3 of 2023.
And this is just the beginning.