Bitchin' Hour & co Charity fundraiser for WARchild
The Boileroom, Guildford.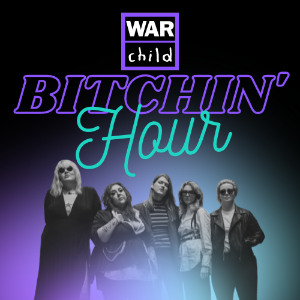 More information about Bitchin' Hour & co Charity fundraiser for WARchild tickets
It's time to raise some money for an incredible cause!
Bitchin' Hour bring you lots of fun, prizes, competitions and of course some kick ass bands to help raise funds for the chairty WARchild.
Around the world, thousands of children are living through terrifying conflicts. Please donate today, to help frightened and vulnerable children caught up in crisis in Ukraine, Yemen, Afghanistan and other war zones around the world.
RAFFLE PRIZES
there will be an abundance of raffle prizes up for grabs on the night! including but not limited to, band merch, art prints, jewellery, witchy goodness, clothing brands and much much more! Each event ticket will come with one free raffle ticket included (given to you on arrival) but you can grab yourself as many extra tickets for the raffle on the night from bitchin' hours merch stand!
COSTUME CONTEST
There will be a prize for the best dressed of the night!
It's Leonie's 30th birthday so we let them pick the theme (soz) so with that in mind, we challenge you to come dressed as your favorite fea creature! fairys, demons, elves, deieties, mermaids, gnobes take your pick! we want to see a sea of magical creters partying it up with us! the winner will win a huge hamper of prizes donated by local shops, brands and bands!
Bitchin' Hour
5 piece bunch of gays and theys from the UK with an attitude problem.
You have been warned.
Bitchin' Hour is the South East of England's answer to the question: 'Huuuh!?!'. Leonie Wilson leads this witch-rock concussion on vocals with a range that some commentators have called scientifically improbable. Joining bass player and noir movie heroine, Lara Mason; ginger guitar tree Becky Bird; drummer slash registered thunderstorm, Beth Lock and the relentlessly young and talented Megan Jenkins.
Special Guests:
BIG DRINK

Hailing from the quaint market towns of Newbury and Hereford, Big Drink (formerly A New Hope) are in stark contrast to their tranquil origins. The lively six-piece came together with one true goal; to pen and perform catchy as hell pop-punk music that is upbeat, energetic, and full of down-tuned riffs.
Big Drink soon chiseled out a sound of their own, while embracing their influences. Despite the global pandemic, 2021 saw the band selected as a finalist in the Impericon Next Generation competition and secure themselves a support slot on Punk Rock Factory's debut UK tour.
Brioche

A brother and sister 2 piece punk rock band, with songs about life, humour, fun times and pasties
Pickled Bumz

New kids on the block, Pickeled Bumz are an experimental 5 piece band based in hampshire!
As well as any money we make from the raffle, donations, and othere events bitchin' hour have been doing the past few monthes; all profits from ticket sales will also be put towards our fundraising total
thank you so much for your support!