Creative Courage Circle: Festive Edition!
The Boileroom, Guildford.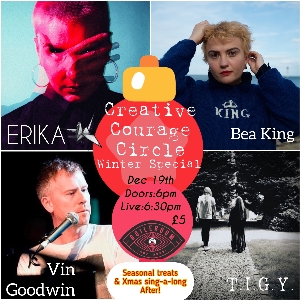 More information about Creative Courage Circle: Festive Edition! tickets
Creative Courage Circle Xmas
December's Creative Courage Circle will be hosted by ERIKA and she will e showcasing 3 incredible projects, Duo; T.I.G.Y., solo artist, Bea King and Musical theatre writer and artist, Vin Goodwin. After the usual night of empowerment and music we will have a little festive sing-a-long with some mince pies and festive drinks! Pop on your Xmas jumper and ring your sleigh bells to the last CCC of 2021!!!
ERIKA
Independent artist and music maker ERIKA emerged from a life coloured by the musical corners of UK and Japan. Crafting beautiful and innovative pop, the mood can switch from haunting to joyous and from hope to despair from verse to verse. Having built an international following, ERIKA embraces the flexibility and true connectivity being an independent artist grants, by touring the UK and Europe 3 to 4 times per year, playing in unique and original spaces, from Choux Pastry cafes, the occasional living room, Sofar Sounds style, through to theatres. Her voice has also caught the attention of some established artists. She provides backing vocals, keyboards & percussion for Skunk Anansie, Japanese artist, Hotei and has toured extensively with MIKA as his backing singer and recorded a guest vocal on two tracks with #1 UK artist, Bastille. Due to lockdown and unable to tour ERIKA created the Creative Courage Circle as a monthly show, after a year The Boileroom, Guildford gan to host it as a monthly show, which has grown from strength too strength, online and face to face.
T.I.G.Y.
T.I.G.Y. is an alt-dream pop adaptation of a diary left behind, brought to life by singer and lyricist, Bailey Tzuke, and composer, musician Matthew Racher.
T.I.G.Y. takes inspiration from poetry, introspection and emotion from the past to create an ethereal conversation relevant to contemporary pain, confusion and uncertainty. The diary, that was titled thoughts I give you, belonged to Bailey's late aunt before it became a posthumous means of connection and mused the duo's debut single, Only Way to Let the Light In, in 2021.
The Dorking, Surrey-based indie power couple takes an artful approach to their honest expression to breathe conceptual life into subjects often aurally touched upon but rarely offering such intimacy.
Their sophomore single, Positively Melancholy, finds a compassionate way to prove that darkness is never absolute, and optimism is always an option through soft yet evocatively powerful vocals and dreamy electro pop textures.
Each of their singles from the album follows the chronological form of the diary and shares the same sonic palette as the likes of Beach House, Slowdive, Deerhunter, Mazzy Star and Cocteau Twins. The album was produced and mixed by Cameron Blackwood and recorded at Voltaire studios.
BBC Introducing has featured all three releases and continue to support T.I.G.Y. T.I.G.Y. are releasing there music through indie distributor, Republic of Music.
Bea King
Bea King is a London-based singer-songwriter who primarily writes to process her own feelings but, in doing so, gives her listeners a canvas on which to project their own experiences. Drawing inspiration from the likes of Angie McMahon, Anna B. Savage, and Laura Marling, King nods towards her influences whilst forging her own distinct path. This is manifested most clearly in the distinctiveness of her melodies which feel both as though they have been passed down through the generations but also contain within them a rare DNA unique to King's voice.
Vin Goodwin
Vin released his first single "Falling Man" in 2011 and first EP "Swim the Wild Water" in 2012 both
produced by the brilliant Cam Blackwood (George Ezra, Jack Savoretti, Lewis Capaldi). May 2015 saw the release of his second EP "The Hunted", produced by UK Number 1 selling artist Jamie Lawson. New music is planned for 2020. While his music generally touches on subjects like 9/11, loss, passing of time and sadness, his very daft British Christmas song remains his most popular tune on YouTube and streaming platforms!


For 11 years, Vin has promoted and hosted his own live music nights (Vin's Night in, Vin's Veg Out and HYPE) which, pre-pandemic, ran for 7 years at a monthly residency at London private members club "Hospital Club " (founded by Paul Allen and Dave Stewart). With the unfortunate closure of Hospital Club, he has come back with shows in Century Club, Piano Smithfield and B-together in St John's Wood.


As well as releasing a few singles in 2021 Vin continues to work on his musical play "A Small Life" (www.asmalllifemusical.com) for which he has written the music, lyrics and story. Working alongside
new co-writer Louise Rowland, they hope to get the show onto a London stage in the next year or two.