Creative Courage Circle: Pride Edition
The Boileroom, Guildford.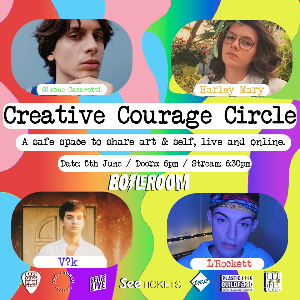 More information about Creative Courage Circle: Pride Edition tickets
L'Rockett

L'Rockett, is a self-producing, self-writing, contemporary RnB artist, pushing boundaries on what it means to be RnB.
Incorporating elements from G-funk, Synth Wave and Alternative Pop, L'Rockett's soulful voice and space-age instrumentals are like a nebula of ecstacy.
With lyrics to rival the poeticism, honesty and vulnerability of the moon itself, wrapped in the infinite expanse of his sharp production, listening to L'Rockett provides the same existential wonder brought on when realising we are on a ball of dust, in a wealth of ever-expansive and dazzling space.
When L'Rockett lands on your ears, get ready to blast-off into oblivion and never see the world the same way again.
Harley Mary
Harley Mary is a gender fluid artist, who reflects their identity onto their boundless music genres productions. Their aim is to make trans and gender non-conforming people feel seen and welcome, grooving to the beat of their sound.

Harley Mary has a unique range of recorded songs which incorporate varied music genres, from indie pop, country, electro-indie to techno house. They don't only use instruments to reinforce their metaphorical lyrics, but they make the most out of whole music genres.
Simone Casarotti
Simone Casarotti is a self-produced indie-pop artist for fans of understated pop music with catchy hooks. He is based in West London and is originally from northeastern Italy. His songs are a tool to empower and normalize queer stories from the perspective of a young gay adult with a nonchalant attitude, soft-sung introspective lyrics, and sophisti-pop inspired arrangements. He quotes Roxy Music, Tears for Fears, and Fleetwood Mac as major influences.

V?k
V?k (pronounced "Vik") is a singer/songwriter, born and raised in Italy. His music's intention is to use the power of pop to celebrate life in its good and bad, to make people feel united and understood through our differences and similarities. Embracing queerness, without being afraid of who you choose to love, his music is vibrant, humorous, conceptual and climactic. With different influences through genres like pop, acoustic-pop and soul, Shawn Mendes, Sam Smith and Alessia Cara are artists he mostly draws inspiration from. V?k always strives to make listeners feel like they are being welcomed into a safe space, as well as using discomfort to stimulate thought, conversation and action.