Drink & Draw
The Boileroom, Guildford.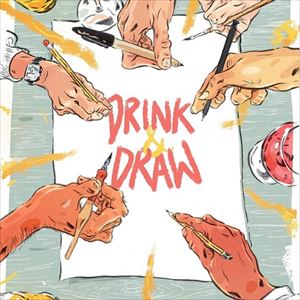 More information about Drink & Draw tickets
A monthly creative happening at the venue. Drink & Draw is the perfect place to enjoy drawing, and getting to know the Guildford's creative community; run by local illustrator, Andrew Thomson.
Bring your sketchbooks, pens, pencils, and if you're feeling generous, some of your favourite equipment to share; or feel free to make use of the in-house materials on offer (paper, pens, pencils, inks, charcoal). Andrew is on-hand to offer drawing tips and advice if needed; and there's also a whole heap of arty books for inspiration, and drawing games too!
No drawing experience necessary, all are welcome from envelope doodlers to professional artists.
Drink & Draw is free to attend, but due to the ongoing pandemic the event will now be ticketed so we have an idea of numbers attending. Tickets are still free, but there is also an option to donate £5 when you book - all donations are gratefully received and help us fund future drawing events, keep the Drink & Draw art supplies well stocked, and maintain Drink & Draw as a free event.
A monthly creative happening at the venue. Drink & Draw is the perfect place to enjoy drawing, and getting to know the Guildford's creative community; run by local illustrator, Andrew Thomson.


Bring your sketchbooks, pens, pencils, and if you're feeling generous, some of your favourite equipment to share; or feel free to make use of the in-house materials on offer (paper, pens, pencils, inks, charcoal). Thomson is on-hand to offer drawing tips and advice if needed; and there's also a whole heap of arty books for inspiration, and drawing games too!

Drink & Draw is free to attend, but donations gratefully received to help us fund future drawing events - life drawing, artist tutorials, sketching trips and more!

@drinkanddrawguildford