F**k Cancer - Macmillan Support Show
The Boileroom, Guildford.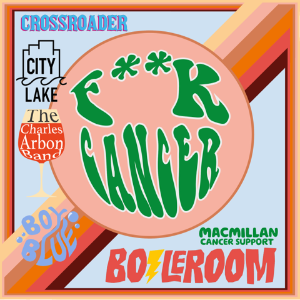 More information about F**k Cancer - Macmillan Support Show tickets
Come and support a fantastic cause by listening to some amazing local bands and
artists who are trying to raise as much money as possible for Macmillan Cancer
Support, a charity that has had a direct impact on all of the acts performing.
Crossroader
Crossroader sits in the genres of garage band rock, blues and pop as well as
bringing in some modern touches and influences.
The band released their debut studio album STRANGER in April 2020 featuring the
local hit "Money Man" which gained the boys a 19 week stay in the NMG unsigned
charts even holding the number 1 spot for a number of weeks and gaining them a
top 5 nomination at 2021s NMG Awards!
City Lake
City Lake are a band based in London/Guildford, who consist of five members! They
are an Indie/Rock band who aim to bring fun high energy to their performances at
any venue they play.
The Charles Arbon Band
The Charles Arbon Band is compiled of local musicians in the Cambridge & London
area playing original material written from the hearts of the broken. Charles comes
from the Cambridgeshire countryside and has recently started university at ACM.
Boy Blue
Boy Blue sits at the intersection between modern indie pop and folk, while also
drawing influences from powerful queer artists of his generation. Despite recently
starting his music career, he is starting off with a bang, by releasing two singles
called "Wrong Side of The Railroads" and "Spell It Out", which cover both areas of
his songwriting genres.