Grant-Lee Phillips
The Boileroom, Guildford.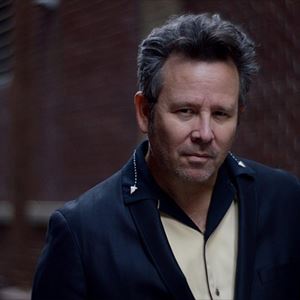 This event is for 16 and over - No refunds will be issued for under 16s.
More information about Grant-Lee Phillips tickets
"Come on lightning, show us your stuff. The words of my young daughter, as she thrust a manzanita branch toward the night sky. Kids being kids, I figured…then I heard the thunderclap."
Grant-Lee Phillips' latest album, Lightning, Show Us Your Stuff, is a turbulent and highly musical rumination that finds the veteran singer-songwriter addressing the strange fragility of life. His tenth solo release bears the markings of his prolific output, a melodic prowess and an ear for lyric in everyday conversation.
The album offers a salve to a wounded world, struggling to regain equilibrium. This is Grant-Lee Phillips at his most reflective, wrestling with the most pertinent of questions. What we value, how we define security, our vulnerability – here Phillips takes stock of the deeper questions with intensity and humor.
56 year old Phillips wryly proclaims, "'Ain't Done Yet.'" He still has plenty to say and "more dreaming left to do." Commenting on some of the new tracks he says, "There's definitely a questioning - I notice it on my more direct or confessional songs like 'Mourning Dove.' I think about the people we are when we come into the world, how we get beat up along the way and sometimes corrupted in pursuit of some brass ring. As the line goes, the things we chase that can't be kept." He continues, "I'll admit it's that nagging tendency to question everything that inspires a song like 'Drawing the Head' and even when I'm writing through the voice of a character, as I am with 'Straight to the Ground.'"
His last work, Widdershins, reflected the recent and radical shift in the American social climate - a world turned upside down. "I've tackled some of this head-on at times, addressing the inequities of this country, trying to get a few jabs in. Ultimately, I came back to the most interesting and fertile topic - our vulnerability and the scars we have to share with one another."
Lightning, Show Us Your Stuff is grown from the same rich soil that Phillip's long career, from Grant Lee Buffalo to his solo work has sprang from. The result is a beautifully human musical tapestry. The warm, live on the floor, instrumental bed is the perfect support for Phillips' inimitable voice. This spontaneous approach has become a tradition among his solo works.
This record is supported by peerless drummer, Jay Bellerose (whose many credits include Raising Sand by Alison Krauss and Robert Plant) and bassist Jennifer Condos (heard on Bruce Springsteen's The Ghost of Tom Joad and other classics). On pedal-steel, Eric Heywood (Son Volt, The Jayhawks, Joe Henry) lends impressionistic touches (Son Volt, The Jayhawks and Joe Henry). LA session musician Danny T. Levin voices a symphony of unusual horns; the euphonium, trombonium and coronet punctuates the tracks, "Leave a Light On," "Sometimes You Wake Up in Charleston" and the album opener, "Ain't Done Yet."
Phillips sums up his inspiration, "These days, I'm interested in writing about the quiet lives of people who are wrestling to hang on, trying to retain dignity, fighting back forces beyond their control. Ultimately, so much is out of our control. Confronting our dependence on one another can sometimes leave us feeling uneasy and yet we are inseparably linked. Music reminds of us of our connection to each other and I remain in awe of it. I'm not interested in pinning the songs down or reducing their mystery. I'm attempting to capture a sliver of time."
https://www.grantleephillips.com/
Grant-Lee Phillips is an American singer-songwriter and multi-instrumentalist. He led the group Grant Lee Buffalo in the 1990s, afterwards launching a solo career. He features as the town troubadour in Gilmore Girls.