July Creative Courage Circle
The Boileroom, Guildford.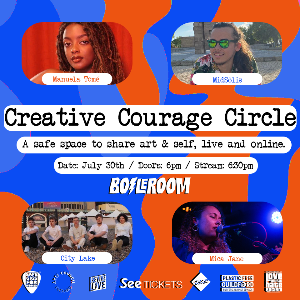 More information about July Creative Courage Circle tickets
July Creative Courage Circle
Creative Courage Circle is where creatives showcase their work/work in progress one by one in the round and talk a little about what they are doing and then after host, ERIKA asks them three questions - these questions are designed to get women talking about themselves in a way that maybe they might not day to day.
Manuela Tomé
Manuela is a self-taught Singer-songwriter of Angolan heritage, born & raised in the city of Coventry, UK. As a free-form artist, Manuela believes her R&B, Funk and Soul fusions mirror the array of sounds she was exposed to growing up. Some of her earliest inspirations include Michael Jackson and Amy Winehouse whilst her current musical influences include the likes of Jorja Smith, Cleo Sol, Kaytranada & Ravyn Lenae.
In 2019, the artist moved to London to study music at ICMP & refine her sound as an artist. Her latest R&B and Funk fusion "IF I WAS SPECIAL", which presented us with Manuela's first music video, featured on BBC RADIO 1XTRA's Future Wave with Complexion. Manuela's debut EP entitled 'ENIGMA' was released in January 2022 and the EP explores themes of infatuation, misjudgement and spirituality.
MidSõlis
MidSõlis
is a creative front for Oscar Hogg Gomez who
collaborates extensively with different artists to create an eclectic collection of songs that convey his outlook on himself and the world.
City Lake
We are a 5 piece indie rock band influenced by two door cinema club, the Arctic monkeys, the cure and Kings of Leon amongst others. We have been playing together since September have a high energy and captivating performance.
Mica Jane
Mica Jane is the front woman of a Tropical Indie Folk band who create music to warm the heart and make it dance. Described as having a "rare quality of calm" Mica's songwriting combined with her soulful voice creates music for the soul. Influenced by the likes of Bombay Bicycle Club and Florence and the Machine, tonight Mica will perform a stripped back solo set for the first time in 4 years!