KEG
The Boileroom, Guildford.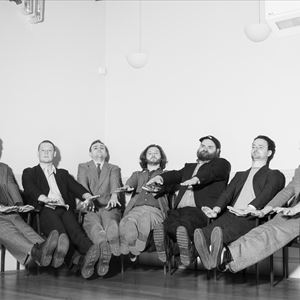 This event is for 16 and over - No refunds will be issued for under 16s.
More information about KEG tickets
Landing somewhere between Dexys Midnight Runners and a jumper ready to be unravelled, Keg take pleasure in creating music which straddles chaos and knitwear. Preferring to delve into a diverse well of influences, the 7 instrumentalists that make up KEG have created, in new EP 'Girders', a world within a world. However, despite the feracious songs on offer, the band insist didn't intend to "make consistently unrelenting and abrasives songs, they just ended up sounding that way." The EP, as they say, really does go.





KEG are a seven piece. Albert (vocals), Joel (bass) and Will (synth) grew up together around the seaside Yorkshire town of Bridlington; and like many artists growing up in removed quarters of the country, they shared a yearning to leave. Spreading to different parts of the country after leaving school, they found their bandmates in their respective cities and found one another once again on the southern shores of Brighton.

Frank (guitar), whose background resides mostly in hip-hop, afforded a unique pulse with a guitar sound which is manic, discordant but firm. Jules (guitar) whose song-writing sensibilities come from a love of cadence and craft of beautiful soul ballads, imbued the band with his structured sense of composition. Both Charlie (trombone & shell) and Johnny (drums) come from classically trained jazz backgrounds.

On their "Girders" EP, the band say it "came about quite naturally, unconsciously it all seemed to line up, perhaps with the exception of Kids which is just a nice radio friendly song about hating your offspring."