The Felice Brothers
The Boileroom, Guildford.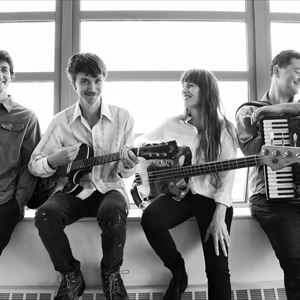 This event is for 16 and over - No refunds will be issued for under 16s.
More information about The Felice Brothers tickets
With 'Undress,' their first new album in three years, The Felice Brothers manage to walk that delicate tightrope between timely and timeless, crafting a collection that's urgently relevant to the modern social and political landscape without ever losing sight of the larger picture. Offering moral clarity and sober reflection through nuanced character studies and artful parables, the band tips their caps to the biting wit of Mark Twain and the keen observation of Woody Guthrie here, presenting a series of portraits that mix the mundane and the fantastical in such a way as to blur the line between reality and metaphor: a man tosses all of his possessions into a smoldering crater; a White House spokeswoman stands naked before the nation; a small town kid turns to crime when his neighbors forsake him. In the world of The Felice Brothers, the traditionally powerful—politicians, preachers, pundits—are comical at best, rendered impotent by their own narcissistic ambition, while those who traffic in kindness and generosity are larger-than-life heroes, cast as everyday saviors walking the streets of a thankless society. In that sense, 'Undress' fits neatly into a long tradition of American folk storytelling, embracing what came before it even as it offers its own unique 21st Century twists along the way.
"Folk music has been a part of every era in American history," says guitarist/singer/songwriter Ian Felice. "When you work within that folk idiom to tell a story about the human condition, you can hopefully end up with something that feels classic and current all at once."
While 'Undress' contains many of the musical hallmarks The Felice Brothers have come to be known for since first emerging from New York's Hudson Valley more than a decade ago (ragged guitars, weighty lyrics, a Replacements-esque sense that the wheels might come off at any moment), the record marks something of a new chapter for the group after undergoing major personal and professional changes. During the break between albums, Ian became a father and released both his first solo record and his first book of poetry, while new bassist Jesske Hume (Conor Oberst, Jade Bird) joined drummer Will Lawrence in rounding out the rhythm section following the departure of two longtime members.
"Jess and Will make for a truly solid rhythm section, and having that kind of strength really frees up Ian and me onstage every night," says James Felice, who plays keyboards and accordion in addition to sharing writing and vocal duties with his brother. "There's nothing quite like the feeling of being completely supported by great musicians."
Support—musical, emotional, familial—has been at the heart of The Felice Brothers from the very start. Inspired as much by Hart Crane and Walt Whitman as Pete Seeger and Chuck Berry, the band first began performing on subway platforms and sidewalks in New York City in 2006. Within just a few years, they were playing Radio City Music Hall with Bright Eyes and appearing everywhere from the Newport Folk Festival to Levon Helm's Midnight Ramble. They'd go on to release a series of critically acclaimed albums that pushed the boundaries of modern folk, with The New York Times likening their music to "the rootsy mysticism of the Band" and The Guardian hailing their songs as "impeccably crafted, with literary-minded lyrics that are both playful and profound." The band shared bills with Old Crow Medicine Show and Mumford & Sons among others, took their blistering live show to Coachella, Bonnaroo, Outside Lands, and countless other festivals across the US and Europe, and backed up Conor Oberst extensively in the studio and on the road.
For a perpetually touring band like The Felice Brothers, the stage is an essential barometer for any new material, so before recording a single note of 'Undress,' they packed up their van and took the songs out for a three-week test drive.
"A bunch of revelations happen when you start to play a song live," explains Ian. "It's really important way for us to figure out what works and what doesn't."
http://www.thefelicebrothers.com/
1. Your ticket purchase constitutes a personal, revocable license and, at all times, remains the property of the promoters. This ticket must be surrendered to the promoters upon request.

2. Your ticket/s are sold by the promoters directly to you the consumer. Any tickets purchased by business or traders in breach of the terms and conditions of ticket sale will be cancelled. By accepting these terms and conditions you confirm that you are a consumer.