The Rifles (Acoustic)
The Boileroom, Guildford.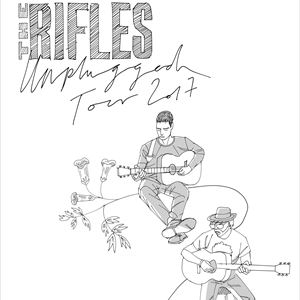 This event is for 16 and over - No refunds will be issued for under 16s.
More information about The Rifles (Acoustic) tickets
British indie outfit the Rifles rose to popularity in the mid-2000s with a jaunty garage rock & roll sound that's equal parts Jam-like swagger and a playfulness not unlike contemporaries the Kooks. First grabbing public attention with the 2005 hit "Local Boy," the band found chart success in the latter part of the decade with their first two albums reaching number two on the U.K. indie charts and 2009's career highlight Great Escape. Amid subsequent rock-oriented releases like 2014's None the Wiser, the Rifles also embraced the acoustic format, releasing a pair of acoustic EPs and a 2017 unplugged album which they recorded at Abbey Road.
Members Joel Stoker (vocals), Lucas Crowther (guitar), Rob Pyne (bass), and Grant Marsh (drums) came together in London in 2003. They made their performance debut a year later and earned praise from NME and BBC Radio 1's Zane Lowe, who quickly championed the Rifles' boyish rock & roll fun. Their debut, "When I'm Alone," arrived in May 2005 and did moderately well among their growing fan base, but it was "Local Boy" that gave the Rifles their first U.K. Top 40 hit that fall. Other chart hits, such as the Strokes-like "Repeat Offender" and "She's Got Standards," added to the band's heightened popularity in 2006. Produced by Ian Broudie (the Coral, the Subways, I Am Kloot), No Love Lost marked the Rifles' debut full-length in July of that year. Additional U.K. club shows and appearances at the annual V Festival in Chelmsford and Staffordshire followed in August. The 2007 single "Talking" was offered as a free download and inaugurated a new deal with 679 Recordings, which released the Rifles' sophomore record, Great Escape, which made it to number two on the U.K. indie charts in 2009. Shortly after it was released, Marsh and Pyne bid farewell to the band and were replaced by Lee Burgess and Kenton Shinn, both of the band Garda. Acoustic 1, an EP of re-recorded old songs and a handful of new ones, appeared in 2010, followed a year later by their third LP, Freedom Run. A second volume of the Acoustic series was issued in 2012 as the Rifles began preparing for a fourth album with a PledgeMusic crowd-funding campaign. Prior to recording sessions, both Marsh and Pyne returned to the band and, with their original lineup intact they completed work on 2014's None the Wiser, released by Cooking Vinyl. For their next project, 2016's Big Life, the Rifles opted for a grand statement, working with producer Charles Rees (Paul Weller) on a lengthy double album. Returning again to the acoustic format, they set up shop at London's legendary Abbey Road to record 2017's The Rifles Unplugged Album