PIP BLOM
The Boileroom, Guildford.
Please note: The following tickets have been listed for resale by customers who can no longer attend this event. These tickets will be despatched by the seller who originally listed them.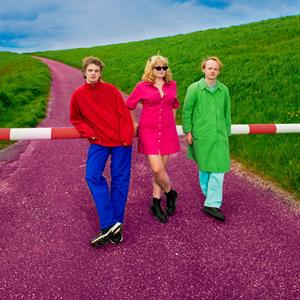 PIP BLOM - Resale tickets
These tickets have been listed for resale by customers who can no longer attend this event. Please ensure that you are aware of the specific terms, conditions and restrictions for this event before purchasing tickets.
Show information can be found below and on the primary ticket sales event page.
Under 14s must be accompanied by an adult. We cannot issue refunds to under 14s who are not accompanied by an adult.
Please note: a 10% resale fee will be added to this order.
More information about PIP BLOM tickets
ALL THIS IS AN ALL AGES SHOW

25-year-old Amsterdam-based Pip Blom started writing, recording and releasing her own indie-pop tunes with a twist in 2016. Early songs, which were simply uploaded to the internet, quickly amassed thousands and thousands of plays - prompting Pip to recruit a band and start playing them live. In stepped brother Tender Blom on backing vocals and guitar, Darek Mercks on bass and Gini Cameron on drums, with Pip herself fronting on guitar on vocals. Since, the band have played hundreds of gigs, rising from small pubs to the European festival circuit with for example performances at Glastonbury and Lolapalooza. ? The band's energetic live show quickly pricked the ears of international press and radio: BBC Radio 1, NME, DIY, Dork, Brooklyn Vegan, Double J, Rolling Stone: ('a Cobain-ish gift for saying a lot with a little') and NPR ('a burst of frenetic joy to lift you up'). BBC 6 Music even A-listed 6 (!) of Pip's singles.
Boat made it to No 1 in the Independent Album Breakers Chart and Pip Blom played 3 gigs at Glastonbury 2019.
Some reactions on debut Boat and second album Welcome Break:
- Rolling Stone (4/5): "An instant classic" - NME (4/5): "The Amsterdam four-piece build on the winning indie-pop foundations of their debut with an effort that fizzes with confidence and self-belief" - Mojo (4/5): "Blom's buoyant indie-rock proves hard to resist" - Uncut (4/5): "Dutch foursome perfect Britpop 2.0"